Of Being Almost-40
My neighbour, Mila came visiting yesterday with her husband and kid. Her house is just in front of mine but we don't really make it a habit to visit each other. Occasionally we would be exchanging some samples of our cookings. We would chat a bit when we bump into each other at the parking lot or pasar malam. Friendly but not friends, if you know what I mean.
I went to her house only once, when she was in confinement. That was about a year ago.
Yesterday was only the third time she came over. The first two visits took only about 5 minutes - combined.
After tea was served, she asked me the weirdest of question. She wanted to know my age. I am not Ifa Raziah or Azwan Ali or the likes, as you must already know by now - I had no reason at all to hide my age and so I answered truthfully, 38.
Immediately she nudged her husband and announced, 'Abang, akak ni dah dekat EMPAT PULOH!' It was the way she said it, where the emphasis was put. And the husband turned to me and they both swept me up and down and up and down with their eyes. Like I have just sprouted out tentacles up my head. It was perhaps the most awkward moment for me in my entire life of yesterday.
Put it this way, I have NEVER heard fourty to sound THAT old. By the way, the 'abang' is 28 and Mila is much younger than her abang.
The conversation reminded me of myself when I was in ITM wayyyy back then. I was 19 and my dorm-mates were all older than me. I told one lecturer that my dorm-mates were all old, they were TWENTYTHREE, I said emphasizing on the number. I remembered Puan Hasnah laughing and telling me that nobody ever made her feel older than I just did. It wasnt intentional. But 23 did sound old to a 19 year old.
Soon I will be double of twentythree. Time sure flies, whether or not you are having fun.
My only consolation is this – age is just numbers. It doesn't matter. And it doesn't really bother me much, it doesn't slow me down or make me start to choose brown over red and school boys over Yamtuan. I am cool about being 40. No sweat.
However, I do worry about expiry dates. I am aware of the laws of Physics, that things get oxidised, decayed and eventually cease to exist. Age (only numbers as they may be) has a direct correlation to disintegrations. Sickness, breakdowns and eventually death are all perfectly natural. In the same breath, 'natural' here equates to 'inevitable'. They are not just bound to happen, they WILL happen.
I think of death and wonder about how my loved ones would fare without me and much importantly how I would fare in the afterlife. Have I met the KPIs? Self-assessment doesn't give wonderful results. I cringe to think how I would score during His assessment of my performance.
Oh God, please, wont You please be lenient on me?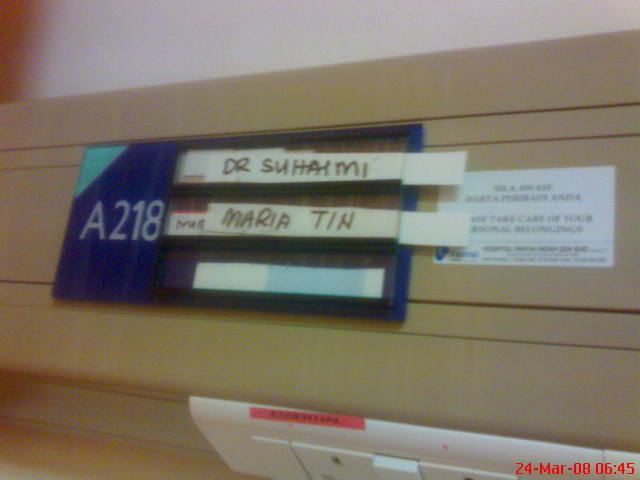 The sign on my hospital bed. Merenam Maria Tin nehi! Mana ada orang nama Tin? I am not Mrs Yap Ah Loy, am i?