An Encounter with Fortuna
21 April 2009
Electra Palace Hotel, Thessaloniki, Greece
1842 Local time
0300 Malaysia time
What a beautiful place this is! And such nice people too!
I got lucky many times since I arrived, maybe I should buy a lottery!
You see, I accidentally locked my sim-card. When it prompted me for password, I keyed in my ATM card password (silly silly me) and so after the third futile attempt, it locked itself up. I called Yamtuan from the hotel (cringe thinking how much it would cost me!) and he said he would check with Maxis, but I would have to call him again for instructions – if he could get any.
I then went to a phone shop and asked them if they could unlock it. They said no, only Greek simcards. I needed to tell Yamtuan to retrieve the PUK number, so I bought a pre-paid public phone card. Cost me €4. Not cheap when you convert it into RM.
I went to a nearby public phone and found a prepaid card there. Still good, it has €3.75 value still. Good or what?
Luck No. 1
.
I tried calling Yamtuan but couldn't get through. As I walked along the road looking for another public phone, I stumbled across a cybercafé, €2.50 per hour and so I YM-ed Yamtuan instead. Got the PUK number I wanted, managed to unblock my SIM and just trying my luck I went to the phone shop again. The prepaid card I bought was packaged nicely. I have removed the packaging, torn it to get at the card. Damaged packaging but value of my card was still full. So I was really just pushing my luck a bit when I asked the shop whether I could return the card. At first they said no, not with the package removed, how to re-sell right? But after discussing among themselves and me saying that I really have no need for the card anymore, they refunded me my €4! Arent they such nice people?
Luck No.2
.
Went for dinner at Ouzeri Tavern (spelt in their language as OYZEPI). It is a nice cosy very Greekish restaurant situated right by the sea. I had grilled don't-know-what fish with boiled potatoes and zucchini. Absolute yum. When I asked for the bill, it came with a plate of dessert – on the house, the waiter said. I don't know what it was, but it was nutty and sweet. Best of all, it was free.
Luck No.3
.
Ketika Duduk Tegak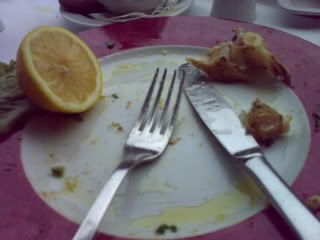 Ketika Duduk Bersandar
Came back to the hotel, had a long leisurely bath. It was when I wanted to remove my lenses did I realise that I have left my contact lens solution in Gatwick. I went down to the reception and they gave me a map and direction on how to get to a nearby pharmacy. I found it after about 10 minutes of walking. Found the solution I needed but instead of charging me, they said I could have it for free as today happened to be the day they were giving out free samples.
Luck No.4
.
I love this place.
24 April 2009
When I check out from the hotel, in settling the bills there was nothing whatsoever on the call I made to Malaysia. I asked them to check, they said they couldn't trace in the system. And so they couldn't charge me the phone bill. Free.
Luck No.5
Greece is kind to me!