Deepavali - Sungai Balung, Tawau
I read with envy how joyously wonderful Deepavali was to some people. Holidaying at paradise lah, cosy time with family lah...
On Deepavali, i had to leave town to go to Tawau. Yes, that place. Again. Not that i have anything against Tawau. I think it is a nice place, quiet, unassuming, great seafood, friendly people. Nice. Except i was sent there for a meeting, and had to leave my family behind.
The meeting was to be done at this place called Sg Balung Resort.
The bosses left one day earlier as they had very important visit to Sampoerna, you know, to do snorkelling and all that. Coolie-kangs like me travelled a day later, laden with boxes and boxes of files. All marked intimidatingly with words like, 'Rahsia Kerajaan Langit' in red ink, and for all their importance and secrecy, were checked in and not hand-carried. Hehe.. how to hand carry i ask you, Mr Protocol?
Once i have checked in, and had the policewoman's hands all over me, i received a call from my boss. She said, maybe the resort is not a place suitable for me - gravel road, verrrrrry bumpy ride, motorcross version. Sigh, wattudu, the warning came weeeee too late, innit?
So i boarded the flight to KK then another one to Tawau. Waited at the airport a good hour because the 4WD broke down on the way to pick me up. O-oh.. bad sign!
And when it finally arrived and we were finally on the camel-trophy road, i telllll you, twas a very bumpy ride. The driver was kind, though. He went maybe 20 km/hr? Apart from the drilling ride, the journey was otherwise a pleasant one. Beautiful view of an organic plantation! There were rows of tequila plant, misai kucing, mengkudu, and dont-know-what-else. Greens and nothing but greens.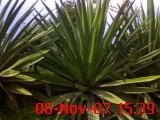 Tequila oo la la
And i wrote this from the room,
8 November
5-ish pm.

It is not even 6pm yet but it certainly feels like it is at least 7pm. Dark. And all I can hear is the sounds of the forest preparing itself to usher in the night – steady hums and buzzes of insects and occasional cries from the forest residents. The rooms are barren of what the city folks deemed as necessities – television, phone, internet. I know Yamtuan would have a nervous breakdown here.

The walls of the chalet are made up of river stones, the floors are wood panelling. Imagine such structure built underneath canopies of the rainforest and you started to wonder why they install air-conditioning system in. You stroll outside and you understand why – it is so you don't open the windows and allow mosquitoes and other nasty bugs in. But they don't have that many of the blood-scucking bugs either – thanks to the serai and pandan planted all around the compound.

From my window, all I can see is the greens. Wonderful trees, huge, old and sturdy. Cool to the eyes, soothing to the tired soul and comforting.

View from my window.

I absolutely love it here.

I am alone in my room now as my colleagues are all out for a 4WD tour around the resort. The host wouldn't let me – no matter how I pleaded. She says the gravel roads will give too bumpy a ride for me. Great for my back, awful for the baby I am carrying – that's what she claims. But she's not my Obgyn and I am stubborn. But this is her land and she is just as hard-headed as me. Thus how I end up in my room when everyone else is out having fun.

Oh, for lunch just now, we were served palm-heart and some weird looking but pleasant tasting fruits.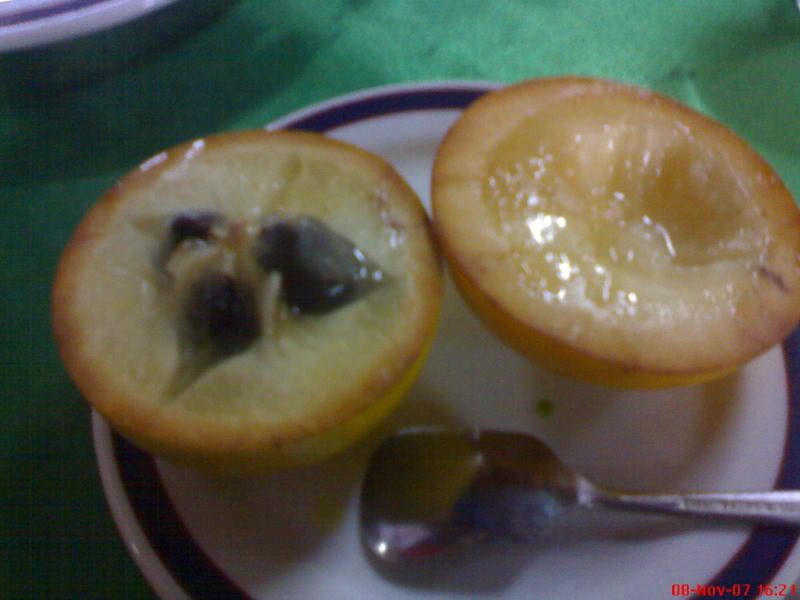 Buah abio ke entah apa ke nama ntah
You would expect that i spend the night romanticising and mooning over the stars and the depth of the night. NO.
I was excited at first. I saw this giant snail and took pictures and everybody called me peghak jakun. But i have never seen snails that big! Really, jurassic in size!
I then had an absolutely interesting dinner. Of palm syrup and palm heart and weird weird fruits.
On the way back to the rooms though, i walked with the bosses. Two of them stayed at a 4-bedroom bungalow. One guy complained to me how Dato' (who stayed with him) didnt seem to be much of a sleeper. Throughout last night, he heard Dato' moving about in the house. And i laughed, i said to him, 'ye lah tu Dato' that you heard, entah-entah benda lain!' After i said that, i realised how celupar i sounded and i was after all in the thick of the forest and you know, taboo kan?
That night, i tell you, i cowered under the blankets. It was too quiet yet there were too many bumps i heard from outside my window. Like something was trying to get in, to get at that celupar mouth of mine. Padan muka, ye tak?
Aiyohhh....
Moral of the story is, go bring your families to Sungai Balung Resort in Tawau for a healthy getaway. All greens and organic too, just be careful with what you say, ok?