The Phlegm ~ Day 1
I wanted to take the afternoon off to take Sun to see his paed. His cough and cold were getting more than just worrying. He had become very subdued, listless and quiet. He did not want to play, he would not even attempt a smile. He refused food and would only take the breast. He couldn't rest well because the cough was really bothering him. I could practically hear phlegm gargling inside his chest with every cough and breath.
My boss had other plans for me. I couldn't leave early and so I asked Yamtuan to bring Sun by himself.
Yamtuan called me sometime after 4.30. He told me that the paed found little Sun's chest actually 'bloated' with trapped air. The air that he breathed in was not breathed out properly. The x-ray that they took showed a dark patch in the lower part of his left lung. He MUST be warded, said Dr Mary.
'can you take a cab straight to the hospital? Sun wants milk and I will need to leave soon to pick up Dot from school.'
And so I texted my boss saying that I really must rush and was soon by the roadside. And texted
Anedra
and my sister too, to tell them the news.
None of the taxis that stopped would want to go to PJ.
'that area traffic bad lah'
'I only go komuter station and here'
'too far lah, sorry'
'PJ cannot, sungai buloh can'
'I only go to the Mines'
'fifty ringgit can?'
'fifty ringgit lah?'
'I don't have fifty ringgit right now. Must go bank first. Use meter lah'
'aiyo, nobody uses meter lah'
etc etc
I was on the verge of tears. I was feeling like the lousiest mom on earth. I was angry at myself for forgetting to go MEPS this morning, for letting Sun be that sick, for not having him insured, for not being able to drive, for working so far away from the children, for being so inadequate and ill-prepared for emergencies such as this!
I called an uncle who lived nearby. The wife answered.
'Mak Uteh kat ofis lagi ni' (her office in KL, so cant help)
'Pak Uteh outstation kat Sabah' (definitely can't be of help)
And I cried. And cursed myself.
And
Anedra
called. It just so happened that she could leave office early that day, and that her husband was away so she did not have to rush home.
'let me send u there' she said.
On any other day, I would have declined. Her house was so not 'on the way'. It would be a far detour and the traffic was not gonna be kind either. What with the weekend traffic and after-office rush…
I met her through the internet. I have only known her for a few months. I have only met up with her twice, each time for lunch. But despite all the cyberness, I do regard her as a very very good friend, but even that was no excuse to be a trouble to her. But I was desperate.
She picked me up by the roadside and rushed me to PJ. The traffic WAS bad and I gave WRONG instructions, but I was there right in time for when Sun woke up and cried for sustenance.
Anedra
, when one day you are in need, for anything at all, a cup of sugar or asam kunyit or nail polish of certain shades and gloss, or the lions in the zoo were too noisy 'at it' and you want someone to shut them up -permanently, or whatever (so long as it doesn't require me to drive), you MUST let me have the honor of being the one you turned to for help. You must. I shayang you, okay? And, because we friend friend I dedicate the song 'Ben' by Mike Jack to you (not that I think u are a rat). ' you my friend will see, you've got a friend in me'. Hehehe..
I don't want to say thank you with all the sincerity of my heart for it would only embarrass you. You know like the scene in maybe Seri Mersing, after yum yum Nordin Ahmad saved the damsel in distress from crooks who always got turned on by women washing clothes by the river clad in kembans, and she thanked him profusely with fluttering eyelid?
He would heroically brush it off with, 'janganlah berterima kasih kepada hamba. Sememangnya sudah menjadi tanggungjawab hamba membantu mereka yang dalam kesusahan. Hamba tidak mengharap apa-apa sebagai balasan. And by the way, are you free for some moonlight rendezvous behind the cengkih estate? I will bring the sirehs and pinangs, you bring the kapur and gambir.' and she would giggle and run away, oh clutching dearly that wet kemban, aiyoh so coy can die. So no no no
Anedra
, I will spare you from having to serenade me. But do keep on practicing. You know you need it.
And then all throughout my hospital days, I received calls and smses from
Maya
,
Kak Teh
and
Ely
(through
Anedra
). People, you know that all those kind words and wishes and doas helped? I read and re-read them and it gave me such comfort . Friendship tested and proven.
So,
Anedra, Kak Teh, Maya, Ely, Nazrah
and all well-wishers, do terima my humble kasih.
Thank you God! In the ambiguity of internet, I found this treasure chest full of gems!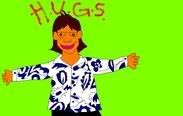 Makcik kayo! Makcik kayo!