Home
I live in a pig-sty. It looks like a decent-sized apartment, 3 bedrooms, one really large kitchen with dry and wet parts, dining area, tv area and two bathrooms. But the apartment really is just a pig-sty with frills.
It is not dirty. But hell it is messy! Toys are littered everywhere. The beds are never made. There are always stuff on the table (fengshui kata, there must be lotsa food on the table to prosper), and there will always be either pillows or clothes waiting (a lonnnnnnng wait) to be folded or more toys or books or newspaper on the sofa ~ if you can find the sofa at all. No place to sit, even to walk in the apartment has its own consequences ~ use a shovel, quicker, to go from one room to the other might just take you days! We do not accept walk-in visitors. To come to our place is strictly by appointments only. That way, we can make sure the apartment is more presentable. Give us notice so we can shove everything under the bed or the carpet. Spray Febreeze here and there and hide the kids in the closet too. The dust never mind, in case of water-supply shortage, can use to do tayammum. Throw rugs on the floor. And dim the lights. Switch on uv lamp, so whites look whiter than they really are. Stage all set, now guests can come in.
I am
not
exaggerating, of course.
Pix of the dining table.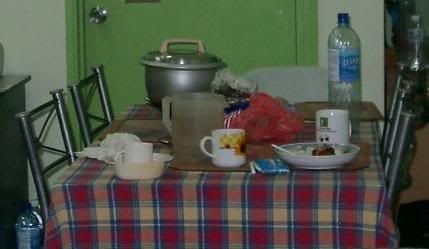 Why, one wonders. My mak taught me well, kemas rumah kemas bilik kalau tak nak kena tiao. Sapu mop hari hari. Jangan tangguh buat kerja. Theory all I have, a scholar when it comes to Sains Rumahtangga (got A1 for SRP). So y-o-y?
Ok, now the excuses.
0630 - Home
Both Yamtuan and me would wake up at the same time. One of us would go to the kitchen to prepare breakfast while the other one will do ironing and prepare the children's bag. Who does what is also determined by previous nocturnal activities, who did most work .. (ya know what I'm sayin?). Then we would shower, get dressed, eat breakfast, wake the children up and off to work. I will arrive at the office at the earliest 0830, at the latest.. emmm, pretty late, better not put here. I should be at office at 0800 actually.
My average is 0930, okay. – Office
Busy busy ~ blog blog blog blog work blog blog blog lunch blog blog work blog work work blog. End of a very productive day. Wait for bus, wait for train 1 (PA System:
Komuter mengalami masalah teknikal, tren mengalami kelewatan, kami memohon maaf
), train 2 (PA System:
Komuter mengalami masalah teknikal, tren mengalami kelewatan, kami memohon maaf
) and finally wait for Yamtuan at train station. Pick up children at 1830.
If we have to go singseh and buy diapers or milk or soap and then go grocery store for kelapa parut and vege (Yamtuan must have anything with santan and I must have vege) we'll be home by about 1930.
1930 hrs – Kitchen & bathroom
Dot will already be requesting for dinner. So rush to do silat in the kitchen. Tanak nasi and throw things into the wok, letak garam all to make dinner. Can eat can do. Yamtuan will bathe the kids. When he is done with both, the first one will want to go toilet to ik-ik. After cleaning her, the boy will have chocolate cake in his diapers pulak. Repeat process.
2030 hrs – Living room & dining room
I will feed the little one while Yamtuan feed the sister. Sometimes Dot will insist on feeding herself so we brace ourselves for the aftermath of this daring stunt. By the time they are done, both kids will be happy and full, both parents hungry and cranky. Yamtuan cleans the both of them and I set the table for dinner. By the time we are both seated, it will already be 2130, at times even 2300! Eat but no time to chew food because the sister is doing a WWE with the brother and the brother at 7 months old is using curtains and anything with legs to pull himself up only to fall flat on his face. Sun wails. Dot hits him. I scream at them. Yamtuan screams at me. They scream louder. Neighbors call the police.
Average 2200 hrs – Dot's bedroom & master bedroom
In one room,
Yamtuan and Dot. '
tidurlah!!!
'
'But I want to watch Pooh'
'Tomorrow, tidur dulu'
'I want mommy'
'she is with your bro. After adik tidur then she will come, okay'
'but I want to sleep with mommy'
'later, she'll come later'
'nak makan buah?'
'esok'
'nak minum susu teh?'
'esok'

Cry! But of course, everything also cannot, how not to cry?
In the other room,
Sun 'mengopek'. Doesn't want to let go. I pull, he wakes. I give, he sleeps. I pull again, he wakes, and cries. Okay okay, you want, take.
By the time the children fall asleep, it will be about 2300 or more and the two of us would be conked out as well!
And the next day, the same routine. When to kemas rumah?
I just ym-ed Yamtuan. We both agreed to make it a point to kemas the house everyday starting from tonight. Sleep can do at office. Remember the hadis, dear? Help me clean up the house, okay?
This is my janji maya (in cyberspace everything is maya-virtual, right?), as the whole cyber community is the witness, no more will we live in a pigsty! No more!