Mirror Mirror on the Wall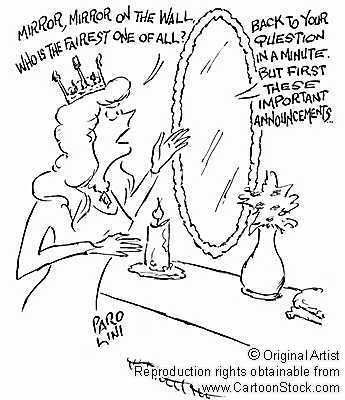 Have you ever heard of the 'true mirror'?
It is a mirror that doesn't reverse things. You put up writings infront of the mirror and you can read its reflection in the mirror just as how the writings would appear to your eyes. You see things as they are. Back is back, front is front, left and right are left and right. And, I must add, ugly is ugly, beauty is beauty too.
I first read about it some ten years ago. The invention wasn't even new then, (patented in 1887), but it made news somehow ten years ago. I read in awe how most human subjects would freak out when they look in that mirror because it would be the first time they see themselves as others see them – you know what I mean?
Even without true mirrors, through the 'deceptive' mirrors that i have at home (the only type of mirror I have), I must say I seldom look-see myself. The times when I sit in front of the mirror, to cleanse-tone-moisturise my face, or to comb my hair or to tease a pimple, I always avoid looking into my eyes, or rather, their reflection. If I need to put eyeliners, my focus will be at that part of the eye that is to be lined, not into the eyes. Almost never into the eyes.
When I go out to restaurants that are filled with mirrors, I will choose the seat that will have the direct view of the wall if I can or at the least, the seat farthest away from mirrors so I will not accidentally look at me.
Why? I don't know. It feels awkward maybe? I cant quite explain. What I know is that, that person reflected in the mirror doesn't look like me. But if you ask me, I seldom look at myself so I probably wont be able to recognise me. So, let's hope I will never lost me because if I do, how to find me if i don't know how 'me' looks like? Yes? I cant just describe myself as that 'short, roundish woman', can i? For all I know, I only look roundish and short because the mirror tells me so. But mirrors lie! Maybe, others see me as a tall hourglass with great long legs? I dont ever want to stand infront a true mirror, no thank you.
What you see in the mirror is only a backward reflection of things. It is NOT true. Imagine the possibilities! You look at yourself and you think you are pretty. In actual, others look at you with pity! Hehehe… Or vice versa, you think you are ugly, but others actually envy you *wink wink*.