The Neighbour
Remember the neighbor who went holidaying in Australia and got me three panties – all oversized (never mind that they fit)?
Well, she called me to drop by at her house the other day. I did and what waited for me was this huge huge pile of clothes. Apparently, her sister is quite sick. She is what you would call, a shopaholic. When there's a sale anywhere, she'll buy by the longgok-ful. Thus how she ended up with multiple colours and sizes of a same design. And God, is she sick. There are many MNGs, Peruna, Zara, British India, M&S, G2000 and many other brands, all with their price tags intact. There are skirts and shirts, cardigans and shawls, tees and camisole, jackets and pants. When I say 'huge huge pile' I mean like many hundred pieces of garments.
Take what you like, Wendy said.
Really?
Do me a favor, take.
So segan, instead of choosing for myself, I helped her choose things that fit her. But the sizes were mostly wrong and the design youngish. In the end, we ended up choosing things that fit MY size and style and they all fit into 3 huge paper bags. Up to the rim.
You know what, you take all lah, I don't know who to give to. Don't want to to give strangers, I will be so honored if you take them all – said Wendy not to Peter pan but to me.
How to say no to such beautiful wonderful gifts? Too good to be true, but as true as blue. So I did the only honorable thing to do under the circumstances. Yes, maam.
Too heavy to carry home, we hauled everything into her car and she drove me back (my house is right behind hers).
So here I am, with loads of new things to wear still in the bags downstairs! I still cant get over it.It's not even my birthday!
Don't you just wish your neighbors are like mine? Best!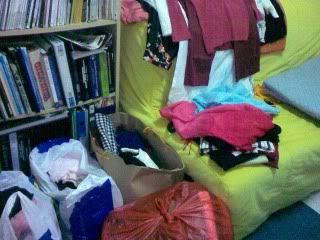 Beautiful Mess